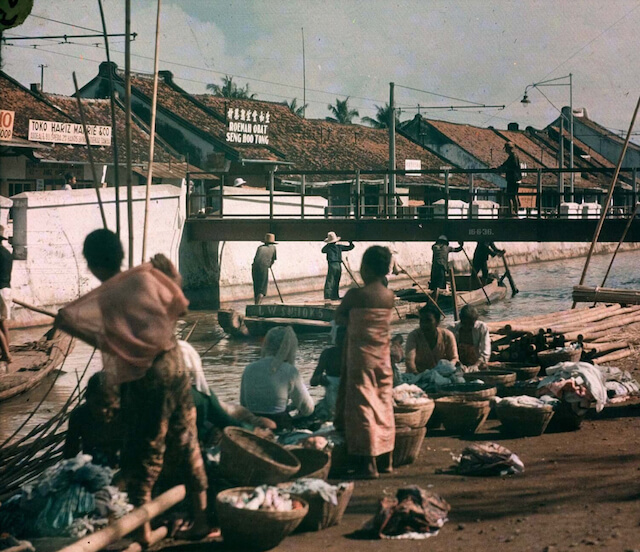 An original colour photograph of the Molenvliet canal in Batavia/Jakarta in 1938. This photo is from a rare collection of so-called stereolight views which could be viewed with a stereoscope to create the illusion of a 3D image.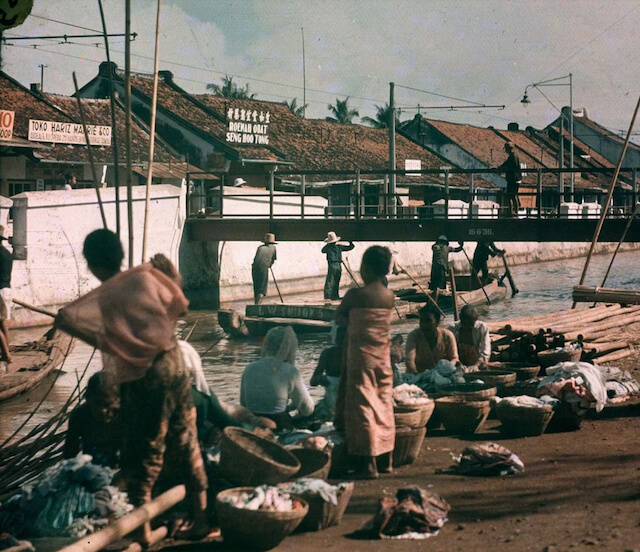 Colour or coloured?
These days we often see 'coloured' historic images of Jakarta on social media, however those that post these have been using free or paid apps from the internet, which 'guess' the colours based on shades of black, white and grey, and more than often these result in improper and unrealistic colours, for example roof tiles that look brownish instead of red/orange, strange coloured faces, and trees that all seem to have similar shades of green. These coloured photos do certainly not represent the true colours of the time.
Molenvliet
It therefore is unique to see this original colour photo from 85 years ago. We are looking in a northwesterly direction just north of the crossing with Ketapang Noord/Utara. The road on the opposite side of the canal is what is now Jalan Gajah Mada (formerly Molenvliet West) which we recognise thanks to the poles of the electric tram. The larger intersection with Ketapang and Sawah Besar is 100 metres further south (i.e. seen from the back of the photographer).
Chinese shophouses
Left and right of the bridge we see Chinese style shophouses, some with clear signs. The left, most likely 'Toko Hariz Maarie & Co" sells and buys second hand bicycles. To the right "Roemah Obat Seng Hoo Tong", a Chinese medicine shop. In the 1930s the Molenvliet Canal was still a busy thoroughfare to transport goods and building materials as we can see, and the scene of washing ladies on the side of Molenvliet Oost (Jalan Hayum Wuruk) was inseparably linked to this north south running canal, that is until the early 1970s.
The number combination on the footbridge (16-6-36) possibly indicates that this metal bridge was only constructed two years before this photo was taken.