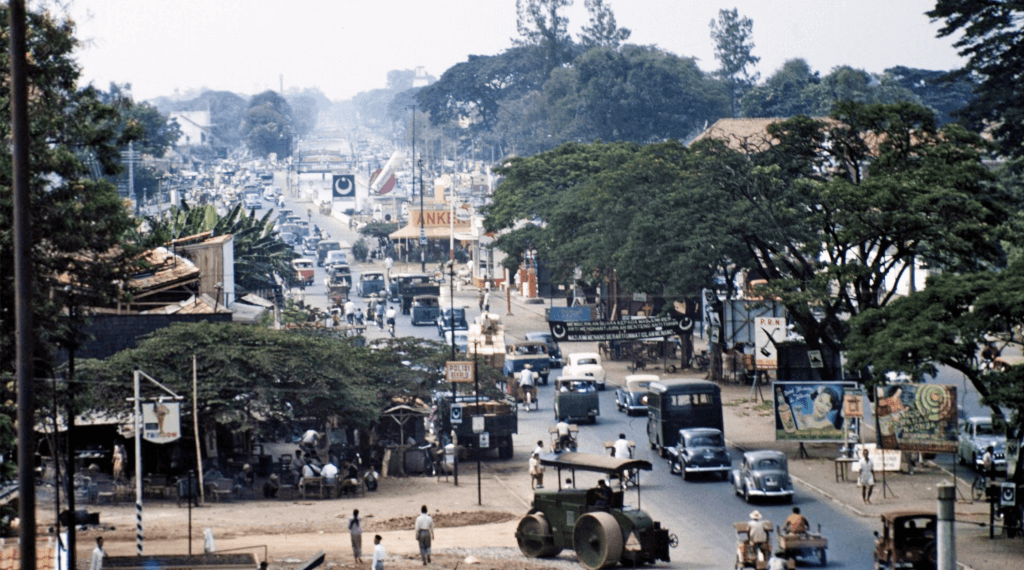 A unique and colourful photo taken just south of Pasar Glodok, looking south towards the start of the former Molenvliet canal.
At the front of the photo is where Jalan Hayam Wuruk (left) and Jalan Gajah Mada (right behind the trees) are coming together to mark the start of Jalan Pintu Besar Selatan. The roadworks at the front left are taking place at the turnoff to Jalan Blustru (formerly Gang Lindeteves), which leads to the Mangga Besar district, east of Glodok. On the corner is a small police post. The former Glodok jail is on the left but behind the photographer and was still present in 1954 as the Pendjara Glodok.
This picture strikingly shows the transition between colonial garden-city Batavia with its tree-lined orderly streets and modern Jakarta with its ongoing struggle to digest traffic and manage pollution. The streets are still marked by some majestic trees, but as we can see they are clearly suffering along the small streets that scream to be widened to allow for the growing traffic. Becaks and cars already mark a steady traffic flow on Jalan Hayam Wuruk. Nevertheless, the Anker Beer advertisement sign close to the start of the canal was still present at this location in the mid 1980s. This rare colour photo was taken by Everardus de Jong.
[source: NMVW, the Netherlands]