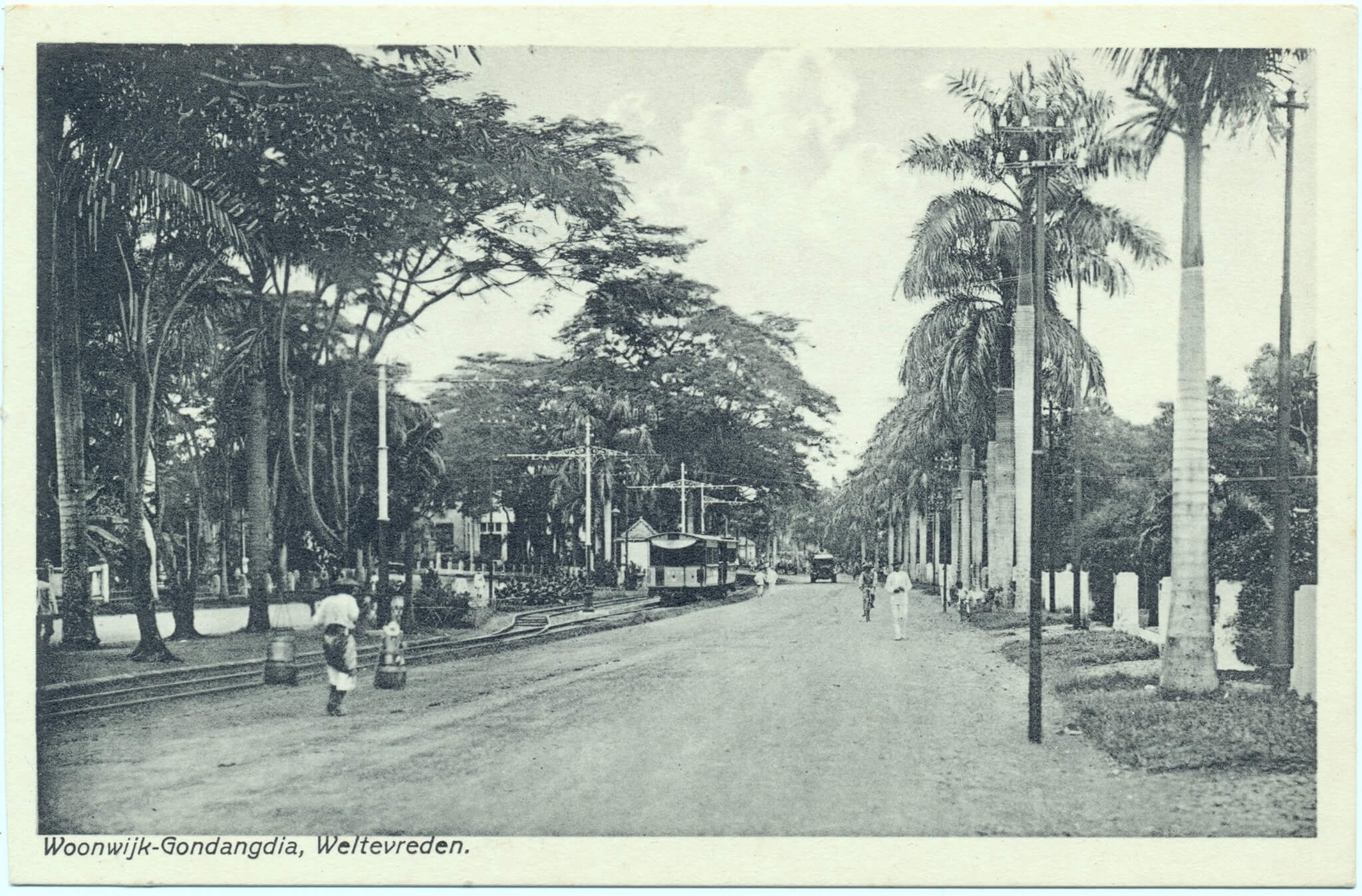 The Batavia/Jakarta City Council approved a plan in October 1910 to construct an entire new residential district on the grounds of the former lands 'Gondangdia' and 'Menteng'. This was urgent as the city suffered from a general shortage of houses, although Menteng/Gondangdia was created mainly for the well-to-do European residents of Batavia/Jakarta. A commission worked out the plans and by 1911 the so-called N.V. De Bouwploeg was established and in charge of the development of the northern half of this district. This was named "New Gondangdia" and covered the area north of what is now Kali Gresik (the drainage canal between Jalan Moh. Yamin and Jalan Sutan Syahrir). Menteng was situated south of this canal. Construction started in July 1911 with the first 11 houses on what is now Taman Cut Meutia.
Gang Baroe Kondangdia
Beforehand this was a small dirt road called Gang Baroe Kondangdia and led to the nearby Kampung Baroe (Baru). However as from 1899 the new electric tram line from Tanah Abang to Tjikini (Cikini) ran through this kampung too. In 1911 the road was doubled to create a stylish 'entrance' to the new residential district, with the tram line in the middle, as we can see on this picture. The houses along this entrance all had two storeys and were designed by architects of De Bouwploeg, of which P.A.J. Moojen and Ch. P. Schoemaker were the most well-known.
Entree Gondangdia
Since the establishment of De Bouwploeg in November 1909 the company was based behind the Raad van Justitie (now Museum Seni Rupa dan Keramik) in Kota. In 1912 construction started of an impressive building for De Bouwploeg at the end of the Entree Gondangdia street, next to the train line. It is partly visible behind the trees in the distance, left of the tram. This postcard from Visser & Co dates from approximately 1920 and was taken from the corner of Menteng (Jalan Menteng Raya), Tjikini (Jalan Cikini Raya) and Oud Gondangdia (Jalan RP Soeroso).
collection: Lost Jakarta