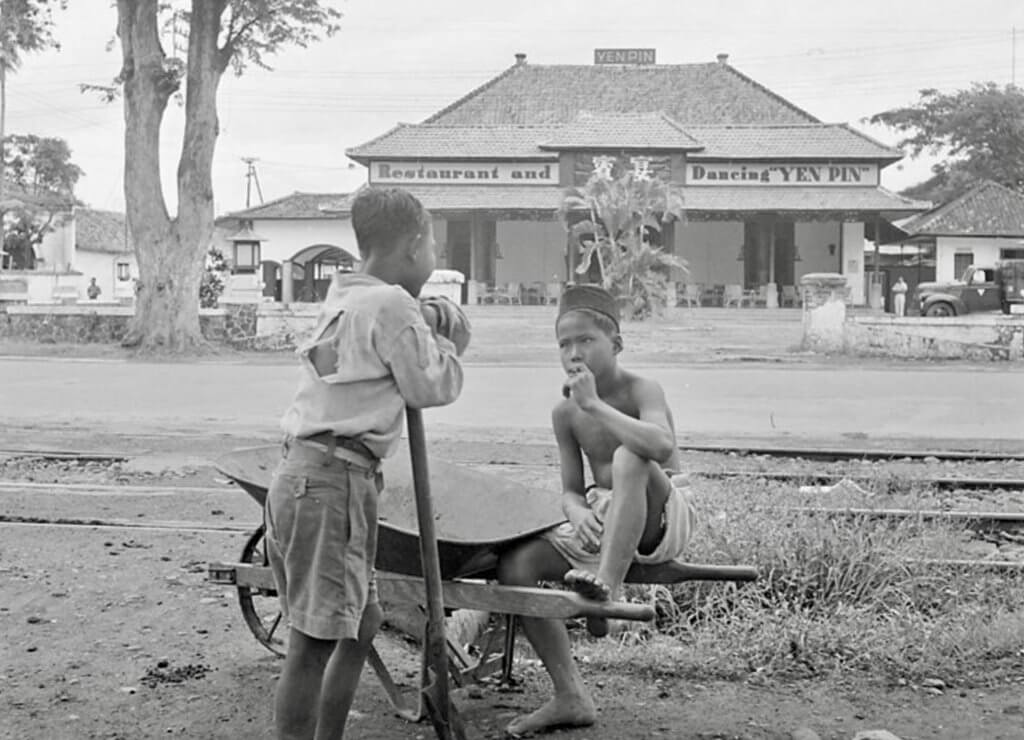 Two young boys, one with a cigarette (!), having a chat with the famous restaurant and dancing Yen Pin at the background. This venue was based on what was then called Koningsplein Noord or Gambir Utara number 14. The owner at the time was a certain Mr. Koeh Boen Tjoen. The dancing, which included a restaurant and bar, was established by Mr. Khouw A. Tong and opened on 3 October 1941. It was located opposite the Deca Park in a building that previously was known as the Carlton Club.
Live music and band
The Bataviaasch Nieuwsblad of 4 October 1941 mentions: "In the early evenings one can sit on the outdoor terrace enjoying delicious Chinese dishes while listening to a live string orchestra. Later in the evening it is only a short stroll to the dance hall, which is cooled and has an excellent dance floor and live band. One can also choose out of three bars where guests are being served by European and Chinese bartender girls. The interior is entirely furnished in Chinese style".
Still present in 1957
Yen Pin was still present in 1957, but it is unknown when it ceased and when the building was demolished.
photo by Cas Oorthuys; source Netherlands Photo Museum