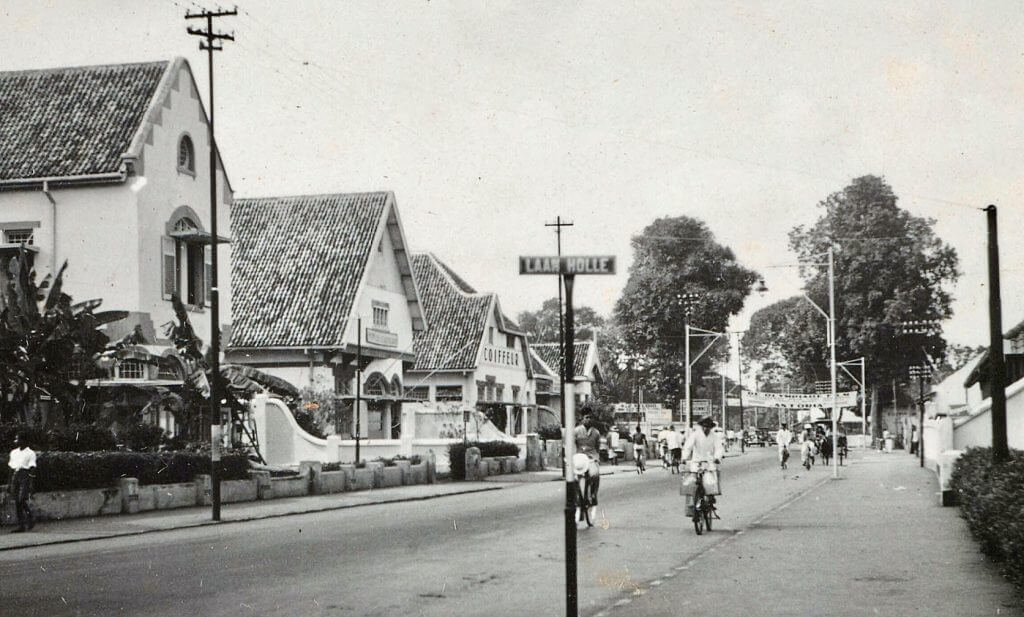 JL SABANG 1937 – What is now officially named as Jalan Haji Agus Salim on Jakarta maps is still known and often referred to as Jalan Sabang, the street name that was given in July 1950 to the street that beforehand was known as Laan Holle (Holle Lane).
The street ran southwards from the western side of Koningsplein Zuid (now Jalan Medan Merdeka Selatan) until the Oude Tamarindelaan (Jalan Wahid Hasyim).
Further south it became the Theresiakerkweg, but now called Jalan Haji Agus Salim all the way until the crossing with Jalan Imam Bonjol on the southern side of Menteng. The street was initially named after Karel Frederik Holle (1829-1896), a tea entrepreneur and publicist. Holle was fluent in Sundanese, knew the Koran by heart and studied old-Javanese scripts. He worked tirelessly for the welfare and prosperity of the Sundanese people through agricultural education, language access and historical research.
Holle also wrote study books for the Indonesian people. An obelisk with a bronze portrait of Holle was unveiled at the alun-alun in Garut in 1901 and is still present today.
The inscription says "Friend of the countryman". There was a debate in Djakarta in 1950 as to whether his name needed to be removed from the street as Holle was well appreciated by the Indonesians and not associated as colonial. Although the street was renamed Jalan Sabang it was still for long known as Jalan Holle. Now the street is called Jalan Haji Agus Salim and known by many Jakartans as Jalan Sabang.
Holle's tombstone is still present at Taman Prasasti. On this photo we are looking at the entrance of Laan Holle as seen from the intersection with Koningsplein Zuid (Jalan Medan Merdeka Selatan), looking south.
The houses on the left have the numbers 1, 3 and 5. On number 5 Coiffeur Maison Thierry, a well-known hairdresser at the time. In the distance a banner advertisement for an Olympiade documentary at Cinema Astoria. [source: NMVW]